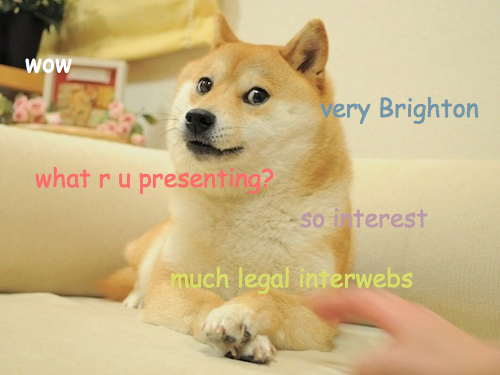 Call For Papers
September 1-2 2014University of Sussex, Brighton
Could a computer virus go on a killing rampage? What are the legal issues surrounding 3D-printed drones? Is Bitcoin the beginning of the end of the existing financial system, or just another fad? Is privacy dead in the post-Snowden world? What has net neutrality ever done for me? Why did Facebook buy an over-sized virtual reality helmet? Where is my flying car? Who would win in a fight, Superman or Doctor Manhattan?
If you find yourself asking these and other similar questions, then Gikii is the place for you. We encourage papers that ask questions that would never be asked in other conferences. Our aim is to be as open and intuitive as possible. If you have a legal paper dealing with the interface between popular culture, science and technology, then Gikii is the place for you.
This year Gikii returns to the south of England and visits the alternative shores of Brighton.
Please send your abstracts (not exceeding 700 words) to Andres Guadamuz or Professor Lilian Edwards by May June 1st 2014.